It was on the second Monday after our return that I found myself striding through a garage forecourt in Caldewgate, Carlisle in order to access the bus garages behind them, these were owned by Alan Palmer the son of Mr Palmer of Blair and Palmer Coaches. The two companies operated independently of each other and were actual rivals in business. I was here in order to apply for a position of coach driver/contract driver which had been posted at the Employment Office in town. I was confronted with fifteen foot high doors that were closed and which were painted black. In the right bottom hand corner of the rightmost door was a smaller access door which was also closed. I give this door three sharp raps with the knuckles of my right hand and could hear the echo of my knocking reverberating through the empty premises. A young woman opened the access door and enquired why I was there. I explained that I had come about the coach driver vacancy that they were advertising through the employment office and she invited me into the small office inside the garage and made me a cup of coffee. She explained that her husband Mr Palmer handled all of the staff employment matters and he should be back at the garage within the next twenty minutes, which he was.

During that space of time Claire and I were on first name terms and she told me that Alan, in his day was a well known motor car racer, driving in venues as Brahms Hatch and Hockenheim. She even produced some photographs from her handbag which displayed Alan when he was at the peak of his racing career. She chatted with me as if we were old friends, telling me about the history of the company, evidently Alan had fell out with his father years before, consequently the two rival companies. Alan finally arrived back in the yard, parked his bus and headed straight for the small door and entered. As he entered the office he had a flushed look about him as though he was in a hurry, his brow furrowed and his hair was falling forward over his right eye which needed to be pushed back with the palm of his hand, and he wore a greenish-brown two piece suit. His tie was lying over his left shoulder having been placed there through the force of air blowing it backwards which was caused through Alan walking so quickly. He extended his right hand to me which I shook firmly and asked me how he could help me. At that point Claire explained that I was looking for the job advertised and told him that she had outlined most of the functions and duties of their drivers.

Alan slugged down the cup of coffee that he was holding and asked me to follow him out to the yard. He asked me how long I had been driving buses, how much experience I had, how much mechanical knowledge I possessed, and how well I knew the city and the surrounding area. He then took me to his bus which was a Bella Vega with no suffix letters on its registration number plate. He sat down in the front nearside seat and invited me to drive the bus, first I had to fill up with diesel and check the oil level. He pointed to the diesel pump which was situated on the north facing wall and explained about the advised technique to use in manoeuvring the bus in order to avoid buses which would be parked up in the future. I duly accepted his advice and filled up with diesel then returned to the driver's seat. He enquired of me, "What about checking the oil?", to which I replied I would check it when the engine had cooled down later on, because I would get a false reading just now with the engine oil being hot. He congratulated me on my commonsense attitude towards the job saying that I wasn't afraid to get my hands dirty either, which was an advantageous attribute in his estimation, as everyone in the company mucked in at times when the situation dictated.

We returned to the 'office' where we both sat down and awaited a cup of coffee being made for each of us. Alan resumed by first telling me that the job was mine and asked me if I could start today, to which I answered, "Most definitely, Mr Palmer, thank you!". We finished our coffees and I smoked yet another of his cigarettes which he had offered. Tea break over, he then began the guided tour of his garage premises and went over any necessary and relevant information I should be made aware of, most of which I had went over with his wife earlier on. He went to a block of five metal lockers that stood approximately six feet high and around eighteen inches wide, opened the first one and produced a well torn and oily pair of overalls that were speckled with cream and dark blue paint, the company's livery colours. He handed them to me and instructed me to drive a particular bus to a concrete area to the side of the garage where a hose was looped and hung around an extruding hooked metal bar affixed to the brick wall. Immediately below the hose was a large brass tap which had one end of the hose attached to it. Beside the tap there was a red plastic bucket and a soft bristle sweeping brush with an extended shank leaning against the coil of hose. He pointed to the garage and explained simultaneously where I could find the liquid soap to be diluted in the bucket to provide a good soap solution to clean the bus.

The bus having been washed and rinsed down, I was then instructed to select a sweeping brush from the side of the clothes lockers, then sweep out that particular bus. The bus had been out for a total of two hours, first, two runs on workers' contract hire to Pirelli's Tyre factory on Dalston Road, followed by a school run picking up children and taking them to their destination in James Street which was the city baths. I hadn't realised at the time that I was to be the driver for the latter part, the schoolchildren to baths run. I parked up on the hill and waited in the bus and worked away at a crossword in the daily paper and awaited the children's return. By this time I had come to the realisation that the job was going to varied, busy and interesting. I drove the children to their regular school in Denton Holme and returned to the garage to report in for further duties. My first week's work completed had most definitely given me an insight to the requirements of the job and had given me time to relate to all the drivers and other ancillary staff who donned their bus driver hats when required. Shortly before I set off to pick up passengers at CAD Mossband, Alan informed me that as from Monday next I would be the regular driver for this contract and that I could take the bus home after dropping the workers at Annan. I was fortunate to find a parking space in Townfoot situated between the High Street and Border Fine Arts. This suited me fine because it was only three minutes walk from my house in the market place and was off the main road, this I discovered was convenient for sweeping out the bus and for the odd hose down.
---


It was that morning that Eva told me how unhappy she was and the reason that she was living with her mother was simply that she had left her husband and had, with her son Michael returned to Scottish soil. Her husband during the time she absconded was a Maitre D with P & O Lines and very much at sea. Little did I know at the time that this was to be a turning point in the direction of my life. Apparently Pamer's coaches had not had their contract renewed for their 14MU workers, the contract going to Western, and I was to learn of this on the Monday when I reported for duty after doing my Mossband run. I was informed as I was last to be employed and how sorry Alan was, he could not keep me on and would have to lay me off until things picked up again, and when that happened he would contact me. The losing of this contract was only the thin edge of the wedge because three subsequent contracts were lost over the next six months and the last I had heard of the company was they were selling their fleet of buses, all apart from one. Unbeknown to me, Eva had been searching for properties to rent and the following week she received information from Dick Hill the solicitor that number six Elizabeth Street was available for rent as a winter let property.

She decided to take the offer and moved in almost immediately. At this time I had arranged to visit a young woman in St. Helen's in Cheshire and decided to travel on the Saturday coming. I decided that I would look for a job as a coach driver in St. Helens and Huyton and did so for a full week with no luck. The girl's name was Pat whom I had met one night in a Carlisle night club and she was a good friend of Anne Kyle, wife of Michael. She had inveigled me to pay her a visit at her home which I duly accepted. She was a single mother with a baby of two years. I stayed with her until the following Sunday evening and travelled back to Langholm because I felt that I was being put in a position of involuntary responsibility. On the Tuesday of the following week I received what I thought to be a letter, which turned out to be a poem from Eva which stated that she hoped I would return to Langholm soon. She at this time had no idea when I was coming back, nor indeed did I. After a couple of days I received a short letter which more or less conveyed her feelings toward me and her wish for us to go out together in the very near future. We went out together several times in the next two weeks and she would come to my house for a coffee before going home. We finally agreed that I should move in with her and we'd live 'ower the brush' sharing all expenses. It was a peaceful location wakening up to the gentle rippling and skenkling of the river flowing by.
---


I set off at a trot and was half-way over the Langholm Bridge when I was stopped by George Ellwood Snr. who immediately exclaimed in his best Cumbrian dialect, "What's oop the day lad?", and I replied something to the effect, "Sorry George I'm in a hurry" and set off again up the High Street. By this time, short as it was, I had kind of evaluated the situation and decided that the police should be informed. I was more or less level with Pool's Fishmongers shop so I decided to go and ask Alex or David if I could use their telephone. After explanations were over, Alex said that I would catch me deeth a' caul' if I didn't cover up and gave me a loan of his anorak, which was very acceptable at that moment. I phoned the police and they come through to Pool's shop where I was allowed to stay a wee while by Alex and David to give the police my version of the recent events. The police told me to stay put and they would have a word with Carlo and return as soon as possible. They would be gone for over an hour when I decided to go to my parents' house to think things through and also inform my mother about everything. I returned to Elizabeth Street later that night when I saw the police mini-van was still parked up outside the house and about a hundred yards away heading down the street was the distinctive maroon Citroën of Carlo's driving away.

The police along with Eva, Michael and myself all went inside then the police explained to me that they had give him a warning that any repeat of this kind of occurrence and his passport would be revoked and he could find himself in jail. Off they went and Eva told me that her husband had been quite reasonable after he had settled down and they had discussed what would be best for Michael and they had sort of agreed on a solution, however he was returning on Sunday to discuss the problem. He did return at the arranged time and we began discussions. He had this idea that to be fair with Eva and himself, Michael should live in Italy for six months of the year, apparently he was going to change his job and work in a casino where Michael would be cared for by a nanny and the remaining six months would be spent with Eva in Scotland. I know that the issue had nothing directly to do with me but I couldn't allow this to happen. Eva told him that we needed more time to think it over and to return the next day at the same time when she would give him an answer. Eva and I talked it over for most of that night, she believed him when he said that he would return with Michael on a prearranged date every year with Michael to which my gut feeling was that this would never happen and we wouldn't see Michael again. Eva gradually agreed with me and we decided that that was what we were going to inform him when he came back.

He did return on the Monday, he was not suited at Eva dismissing his proposal and vowed that he would get Michael no matter what it took. Up to that point we were feeling pretty confident, then doubts began to creep in regarding his future behaviour. It was all quiet for the next couple of days, I had been going up to my parents on a daily basis and on the Wednesday I was surprised to meet Tony Wende, John's brother at my mother's. He told me that he was willing to help in any way that he could so I thanked him and told him to come round to Elizabeth Street tonight, which he did. We discussed our options which weren't many and decided that I would contact my sister Kathleen and Harry Mitchell at Mossknowe cottage. I went to see her and she agreed to put us up for two or three nights. How the plan unfolded was as follows, I had arranged for my brother Joseph to stand in the centre of the Langholm Bridge and my mother stand in the centre of the Suspension Bridge, each armed with a torch. Every ten minutes Joe would flash his torch once towards the bridge where my mother was standing, and if all was clear, she would reciprocate by flashing her torch once also. If she flashed twice it indicated that Carlo was close by either in his car or on foot. Then it was mam's turn to do the test flash and Joe's turn to reply.

In the middle of these arrangements Tony Wende drove his car to the back door which was just off the lane directly opposite Esk Place on the other side of Charles Street(New). He gave two knocks and went inside where a large clothes trunk was sitting in the middle of the kitchen. I told them that I was going to collect my Mini Countryman at its parking place and return as soon as possible. I returned and parked in front of the house, jumped out of the car and opened the rear doors, went into the house via the half open front door which was being held ajar by Eva and proceeded to the kitchen where Tony was waiting beside the trunk. I gripped one handle and Tony grasped the other and quickly made our way to my car where we slid the trunk into the rear of it. We could see no torch flashing over this period of time, so assumed that the coast was clear. Eva positioned herself in the passenger's seat and Tony went back into the house to collect two carrier bags of clothes which he handed to Eva. We thanked him for all his trouble then he went through the house and out through the back door, unlocked his car and got in it, then reversed down the lane out on to the road and then drove home. Eva and I, meanwhile drove away, honking the car horn as we went off over the Langholm Bridge. I think mam and Joe got the message. We drove to Kathleen and Harry's house and went straight in.

There was a huge fire blazing in the hearth with everyone sat around it in a semi-circle, most of them peeling satsuma oranges. Harry sprang up and asked us to follow him to our communal bedroom through the front lobby. It was like a refugee camp in appearance because of the higgledy-piggledy formation of seven beds, three double and four single beds. Harry explained that normally three of Kathleen's five boys slept in the side bedroom but owing to the serious damp penetration they thought that it would be fairer and healthier for the boys. In all there were ten bodies sharing the room, Harry and Kathleen, Eva and myself, Nigel, Colin, Paul, Gary, Glyn, and Michael. The bairns were all excited about the whole thing, treating it as an adventure. Most of the night was taken up by Harry and I discussing possibilities and cracking jokes. The next morning we saw Carlo driving past in his car, probably to see a solicitor we surmised. Eva and I made two or three trips into Annan over the next fortnight, once to discuss our situation with him and the second time visiting a relative. On the latter trip Eva had got out of the car to do her shopping on foot, which she completed and was walking in the direction of the car park that I'd only just drove out, when I saw his nibs crossing the road towards her. I accelerated at full revs towards her, not realising I had gone through traffic lights while red, then the next thing I was aware of was Carlo half lying across the car bonnet and thumping my windscreen with the side of his curled up hand. I slammed on the brakes, he rolled off the bonnet, then drove around him while he was lying on the street, I then gave a couple of blasts on the horn accompanied with two headlight flashes and Eva came running across to the car, jumped in and we headed off down Lady Street, and headed for Stapleton Road and continued in the general direction of Langholm.
---


We arrived at the caravan site in good time as it only took a little under twenty minutes to get there. Good as his word, the caravan was vacated and he was busy snipping some long blades of grass about the breezeblock supporting the jack legs. He stopped what he was doing, got up from the crouching position he was in and stood up to full height which would be six foot easily. He opened each half of the caravan's stable doors separately and stepped into the caravan which had only one room which one third was partitioned off for the kitchen area which surprisingly contained a gas cooker, a fridge and two storage cupboards, one at the back of the partition and the other two located between the cooker and fridge. He then went through the motions of lighting the closed-in fire. We lived contentedly in that caravan for five months, then Bill offered us a much bigger caravan that had more amenities. We saw it and liked it, so we accepted it and made our home there. A couple from Burntisland moved into the caravan next door a few weeks later and they became good friends. Peter Kennedy and his fiancée had planned to get married within the month at Gretna and asked Eva to be their witness, I at this time was working. Pete and I have rekindled that friendship, and through a chance meeting in Langholm, he now lives in Hawick and is a regular visitor to our house. I discovered that Pete suffers from Ankelosing spondilitis which is a rare disorder that draws the vertebrae together and causes him to walk with a stoop, it is also painful owing to nerves that are trapped between the vertebrae. He can also be affected so severely that he is unable to get out of bed for three months before it relents once more. So our common concerns about disabled people has strengthened the friendship.
---


After a couple of weeks I would work along with the wagon loaders and unloaders, packing our own wagons and tipping loads from other haulier company lorries. As I recollect the staff were firstly, Mr Turnbull, known to his employees as 'Screck' because of his incredibly high-pitched voice, his son Michael, Raymond, Doug, the haulage supervisor, in the maintenance garage was Wull, supervisor, his mechanics, Joe, Neil, Jimmy, and Robert. In the paint shop was Derek Gass, a first class freehand painter who done all the 'shadowed text' for corporate logo names. Derek was the man that painted my shop sign, 'Garden Fresh' which he done on a Sunday morning allowing me to pick it up on the night when it was completely dried off. Wee Jimmy would help him out from time to time, I've seen him driving a blue Band wagon recently come to think of it. I got to know all the drivers fairly well, there was Wullie, Norman, Brian, another Wull, Crawford I think, Peter Callander. When I was finally assigned a regular wagon albeit a three tonner, I was put onto Avon deliveries around Dumfriesshire and Ayrshire, and what a trial that was. At least when you are dealing with companies you are assured that there will normally be someone around to accept delivery of their goods, but not with residential deliveries. There would be at least 30% of householders who had a delivery to be absent from their home, and I had to seek out neighbours who would accept delivery on the other's behalf, or alternatively if nobody could be found leave their boxes in the most ridiculous places such as the middle of a dense bush or hedge, a cleanish dustbin, the coal bunker, the concrete rain canopy over back door, in lean-to's, greenhouses and garden sheds, then write out a note to the person concerned explaining where their Avon box was, then post the note through their letter box, this all took time. Normally I would be on the road by 7.30 am and often return some twelve hours later, total knackered and utterly fed up, but that was the nature of the job.
---


Just as a matter of interest I returned to Carlisle on the following Saturday and paid a visit to Gray's Art Shop which stood at the corner of Scotch Street and East Tower Street, to enquire if it was worth having the picture professionally cleaned, and did the picture have any value. The proprietor give the picture a good examination, then explained that the emulsion paint could be removed quite easily, and that the picture was filthy and required restoration and specialised cleaning which would cost somewhere in the region of £35.

This at the time amounted to more than half my weekly wage that I earned from blue Band Motors in Lockerbie. However, on his recommendation I had the painting professionally restored and was astounded when I laid eyes on after its restoration, it was like a freshly painted picture so vivid and sharp. After I had paid for the work done on it, he advised me to have it valued with Christie's Antiques who co-oincidentally were going to hold an antiques evaluation day in two weeks' time at the Hilltop Hotel on London Road. I attended the evaluation day and was pleasantly surprised when so much interest was shown concerning the painting. I was asked if I wished to sell it through their auctions in London and was sent a sales catalogue which displayed the picture, which was captioned below it, 'Property of a Scottish Gentleman', I received a cheque through the post for a four figure sum during the next week. Eva and I discussed and agreed that we would use the money to put down as a deposit on a house, which we duly did, a semi-detached bungalow in Halifax Road in Eastriggs.
---


We were all told on the spot after each of our short interviews if we had landed a job or not, and surprisingly every day one of us did. We were split into three main groups, men from Carlisle, Longtrown and Gretna and the A74 was one group, the second consisted of Annan, Eastriggs, Rigg, and Brydekirk men, the third were men from Lockerbie, Ecclefechan, Eaglesfield, Kirtlebridge and Kirkpatrick Fleming, that was my group and because I lived at the last drop-off point I was allocated a Ford Transit minibus and made up to Ganger, whatever that was, which was great because I was paid an extra fiver per week. I'd never gave the matter much thought concerning the distance I'd to travel, the places where the pick-up points were and most importantly the time we had to be on the spread prepared for work. I soon organised the men's pick-up points and had a good idea of the travelling time after the first day. As the pipelaying was to begin at Lanark and we had to be dressed and ready for work by half past seven, I first started off at half past four in the morning allowing for small detours off the main roads and also for early morning traffic further up the road. Happily the journey took less and less time as the pipeline drew ever closer to Lockerbie.

I was employed for about nine months with 'Socea' which was the French firm that was awarded the contract to build and install a gas pipeline. My main job on the spread was a pipe-slinger and involved placing a leather sling around each pipe section which was attached to a machine with a side boom. This work didn't appear to be dangerous on the face of it, but I was to learn differently on two occasions, the first instance was when I had just finished slinging a pipe and the machine driver with a boom snatched as he lifted the pipe and it started to swing wildly and the only thing behind me was the pipe trench which would be about ten foot deep and six foot wide, so there was nowhere to escape. I'd to think fast, a soaking or a crushing and I chose the former and jumped into the flooded trench. Of course to make matters worse the French supervisor and the boom driver cracked up with laughter. The same happened about a month later and I ended up being soaked. I can remember that summer extremely well because for the first time in my life I collapsed from sunstroke and was placed in the travelling 'bothie', and left there for several hours until I recovered. I had fell into a deep sleep which I found out later can be extremely dangerous.

I was very annoyed that my workmates had left me there because I had to try to catch up with the pipelayers who were over a mile ahead. I had to collect the mini-bus before we finished work for the day also, so I decided to backtrack to our morning starting point where the vehicle was parked. I remember the feeling of relief when I climbed into the bus, which was red hot and which I jumped back out of very smartly indeed. After leaving all the doors and windows open for five minutes whilst driving towards the front, it cooled down significantly, and the coolish air blowing on my face freshened me up. When I arrived at the front end, the French bosses, one in particular Marcelle was waiting for me, and for an explanation, which I did attempt to give. But with all the shouting and gesticulating that ensued from Marcelle, he never heard a word. He laughed and said in broken English , " alright, you no get pay for today", and pointed to the sling which was being slung onto the pipes by a temporary replacement slinger. We were only on the job for two weeks and a strike was called by the labourers, of which I was one, and I received instructions from the head ganger that I had to drive up the 'spread' as far as it went which was virtually to the outskirts of Lanark, the purpose of the trip was to ensure that all the gangs of labourers had been informed of the strike decision and to make sure that they joined us further down the line which was only a couple of miles out of Lockerbie.

The reason for the strike was simple, the firm who had employed all the labourers worked independently from the French and the Welders who were treated like royalty and who appeared to call the shots. It took me about four or five hours to talk to all the various gangs of workers, but finally had ensured that everyone had been informed of the situation. Next day I had to go through the same procedure again, but finally through mounting pressure of the French who on one side were gnashing their teeth with anger and frustration because the entire operation was closed down, and on the other side were the welders who were complaining because they were not being paid, apparently they were only paid when each weld which had seven passes was complete and had been x-rayed and passed as safe. I remember that every labourer come out on strike with the exception of two, who at the time of the outside strike meeting stood alone on one side of the 'spread' while around two hundred strikers faced them on the other side. brave men! The strike was called off within an hour of meeting when an agreement was made by the employers to pay us the twenty pounds to make our wages up to what had been agreed at the time of applying for the job. We returned to our various work locations, I was prepared to recommence at the very front, when we realised that there were no welders present. Word came back down the line that the welders had decided that they would be striking for more pay. They did succeed in obtaining a raise in their rate, which put them up to a £400.00 per week earning potential, and they had also obtained an agreement that they would decide when to cease welding which would be after they had welded a hundred pipes every day.
---



That particular year will be remembered by many as the Queen's Silver Jubilee year, but much more important to me because it was the year I was married to Eva Pludowska, yes! sister of Adam. Eve and I had a quiet wedding ceremony on 2nd September at 2pm which was held in the Gretna Registry Office, formerly on the main road next to the bank. I had finished my early shift of 6am to 1pm, dashed to the bus garage in St John's Road in Annan, already 95% cashed up in advance, jumped into my car which at the time was a Ford Corsair 2000 Ghia, and headed for Eastriggs where Eve was waiting anxiously and impatiently for me. We managed to arrive at 1.50pm, ten minutes early which hardly felt possible after the mad rush in getting changed. We entered the registry office accompanied by my brother Joseph, who was best man, and Eva's mother, Ginia was bridesmaid to her daughter, there's a switch. Before the formalities had been completed, it became obvious that I had left our marriage application form in the house. Without any further ado, I run out of the office, jumped into the car and sped off in the direction of Eastriggs once more. Having picked up the form and returned in under twenty-five minutes, the ceremony finally got underway, until the next 'glitch' that is.

It is hard to believe but I had never thought of getting a wedding ring for Eva through one reason or another, so when the time came for me to place a ring on Eva's finger, she first had to take her wedding ring that she was wearing that was from her first marriage, then passed it to me behind her back, I in turn passed it to Joe who made out that he produced it from his waistcoat pocket, Joe then passed the ring back to me in full view, and finally I placed it on my bride's finger. I'm sure this fiasco had not went unnoticed by Pat Bryden, the registrar, but her face gave away nothing. After the marriage ceremony, a few photos and back to Langholm. We had a simple informal reception in 'Extonall', my parents' house, and had a thoroughly drunken night. If memory serves me right, Eva's mam was helped into bed after being half carried by yours truly to her home at 22 John Street, my father Joe meantime had wandered up the path of his garden and threw up over a few unsuspecting flowers. Next morning he returned to the garden to the selfsame spot to search for his dentures, which he found in the flower border to his great relief. At the time of writing I find it almost incomprehensible that I worked on the buses for seven years with very few memories of those times.
---


I was driving number two bus in the convoy and was going along quite happily when I saw a lot of heads bobbing up and down in the lead bus. They finally settled with the people concerned all standing on the rear seat with their backs towards me. As if by an unseen signal the entire line-up pulled down trousers and all and started to gyrate and wiggle their bare buttocks before my eyes. As you can imagine this was a time of predicament as I tried my damnedest to focus on the road ahead and trying not to look at the bums for too long a space of time, mind it beat service work any day. We finally arrived at our destination, each bus driver checked for identification at the main gate. We drove into an army camp which was easily obscured by the surrounding woods and instructed to park up and head for the canteen which we did. We were all ushered to a table in the corner where we sat having a smoke for approximately half an hour before over two hundred boisterous and hungry females rushed into the canteen. We were approached by a male waiter in a white jacket who asked us for our order. After a short discussion we discovered that there was no cutlery supplied and that we were supposed to have been informed.

We managed to utilise combs, rulers broken in two, and short 6" rules, needless to say we all passed on the soup but we did all tuck into the chicken, potatoes and veg, finishing off with a plate of ice cream and jelly, well when needs must!. We finished our meal had a smoke and headed back to Annan, an eventful day I think.

---



I was fortunate to work with a good bunch of men during my years as a driver/conductor with the Western. The eldest, Jock Williamson has been dead for over twelve years, he was a long serving employee of the company, then Johnny Knight who lived in Annan and died last year, he lived by himself having lost Sally his wife some eight years ago, John Wilson who lives in Dornock, Eastriggs, Charlie Rae, a great man for horses and equestrian pursuits, there was Jack Eaglesham who was tragically killed at the wheel of his bus trying to avoid a car which had omitted to halt at a crossroads, the unlucky Jack slammed into a tree in trying to avoid the car and also avoiding endangering the lives of his passengers, Jock Smith from the Rigg was a chirpy wee man who always had plenty to say. Jock died as a result of trying to miss a small child on a tricycle as she appeared suddenly from a farm lane. Jock had banged his shoulder very hard on the driver's side window and lumps had grown about his armpit and shoulder were diagnosed as malignant and Jock was no longer with us after three months having died of cancer. Jimmy Jackson was a hell of a man who kept all the passengers of his bus entertained at all times, then there was Jack Thompson who was much maligned for his confrontations with management over working practices as he was our shop steward for several years, Billy Crowther from Eastriggs who had put in a lot of years, Brian Grieve whom I met several years ago and he introducded his wife Pat, who was also on the Carlisle city buses, and blow me! I recognised her immediately as one of the shop assistants who worked alongside me. I blurted out, "reads Jean Plaides' historical novels and drinks vinegar", and she was astounded that I remembered these details about her when we were employed with the London & Newcastle Tea Co Ltd in 1964, then there was Michael, next, Andy whose physical appearance was like that of the television character Frasier with a good head of greying hair, and finally Ian who moved to Carlisle and is still a bus driver, also with the Stagecoach town buses.
---


I told the Sister that I had not seen the note that was left for me until a couple of minutes ago. She went on to say that there was no reason to panic and if I went through the following morning it would be soon enough for me. I wasn't to be put off as easily as that, I told her and asked her to inform Eva that I was on my way over, but first I would be buying a fish supper before the chip shops closed. I arrived after having had my late supper sometime before half past midnight and had a chat for ten minutes or so, then had a word with the Sister informing her that I was intending staying the night and could she help me out by showing me where I could have a comfortable seat and hopefully have a little sleep. Fortunately there was nobody in the Day Room and there was a two seater sofa in the room. I had myself a quick cigarette and was in the process of extinguishing it when the Sister appeared with a plastic cup full of tea. I thanked her for her kindness and she replied by telling me that if there happened to be any developments through the night that she would ensure that I was informed as quickly as possible.

Possibly three hours or so later I was wakened by a loud thud and felt a dull pain in my knees, I'd fell off the sofa in my sleep. You see, a six foot two man on a five foot sofa is not an ideal combination. It took a few moments to regain my orientation and realise why I was in this room, and how I had ended up on the floor. I had a quick cigarette, drank the dregs left in the tea cup and went off to seek out a toilet which I found fairly easily. I returned to my makeshift bed and resumed my former sleeping position. As if one bed eviction wasn't sufficient, the same happened again as in earlier hours, and I woke up feeling terrible, stiff, tired, rough, and hungry would be the main feelings that I was experiencing at that moment. I made my way to a washroom and toilet and had a swift splash of cold water on my face which I dried with two or three sheets of paper towels. I then made my way to the ward to discover that Eva wasn't present but on further enquiries was infoirmed that she had been moved to a side ward off the main one and that there was nothing to be concerned about. Actually at that moment Eva was taking a supervised shower, so I made for the coffee and tea vending machine and bought a cup of coffee. I went back to the Day Room after being passed a daily paper by one of the nurses and sat reading, had a couple of cigarettes and drunk my coffee.

The time was around the nine o'clock mark so I decided to inform my family of what the situation was and my sister Margaret told me that as soon as I was ready for coming home after the birth to tell her immediately and she would organise something for me to eat. The day was dragging on closer to my shift starting time so I decided to phone the Annan garage inspector to tell him how things were and also to ask if he could get one of the drivers to do my shift for me. To my surprise and great disapointment nobody was prepared to change shifts for that night, so there was nothing else for it but to begin my shift at 3pm and carry on regardless, although I did mention to a few regular passengers whom I knew quite well that none of my work colleagues would change their shift with me and told them the circumstances why I wanted to change. My thoughts were constantly with Eva that entire evening and I managed to telephone Cresswell a couple of times during the course of my shift, the latest call giving me no news of a birth. I completed my shift at 11pm and by the time I had swept out the bus and fuelled up along with checking the oil level, it was after 11.30pm, so I decided to jump in my car and drive directly to Cresswell where I found that Eva had been in labour for a little over half an hour.

After discussing the situation with the ward nurse, she advised me to go and get something to eat, which I duly followed and bought fish and chips at the chippie on the Sands. After I had eaten and drunk a cup of coffee I felt reinvigorated and was allowed to see Eva for half an hour or so until I was ushered out into the adjoining waiting room where I sat and read magazines anmd smoked for two or three hours. Finally, through fatigue and stress I lay across the two armless easy chairs that were positioned side by side, and fell asleep. Suddenly I was awaree of a commotion going on, and through my disorientation rolled off the chairs and woke up with a start. I enquired of a nurse what was going on, to which she replied thjat an emergency case had been rushed in. I enquired how Eva was doing to which she replied that there was no change in her condition. I reverted back to my previous prone position after smoking a cigarette and once more fell asleep until 5.30am when I rolled off the chairs again to land with a resounding thump on the floor. 8th February 1980 Laura was born at 4.02pm after Eva had been in labour for 11 hours.
---

The property came up for rent after a bathroom and kitchen centre had closed down, and as the rent was only a little more than we were already paying, it seemed like an excellent opportunity to obtain larger premises involving very little extra cost.
---
---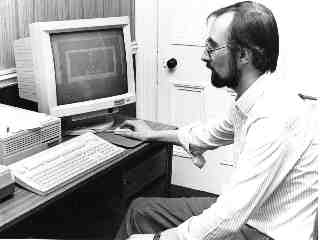 Annandale Observer - Computer Operative

I was employed by the Dumfriesshire Newspapers' Group and was based at Annan between 1989 and 1993. I began as an Apple Macintosh operator and was employed to design and draw advertisements on screen. I had four happy and satisfying years because I felt that I had some value and I was in a position that allowed me to be productive.
It would be around the end of September of '93 that everyone's role in the company was re-assessed and the management came to the conclusion that everyone would need to possess a minimum speed for typing. That everyone in the 'setting' room would each work at four separate main tasks. For myself, it meant that two of the tasks would have to be carried out standing up, pasting up the blocks of text, pictures and advertising blocks, and the other task being taping down the full size negative pages that would be used for printing out the newspapers. The other two tasks that everyone was expected to do was firstly, type in all news, sports and advertisements on the current dynamic computer system, then proof read each others advertisements and news articles. As I thought that I was the only Apple Mac operator which gave me a sense of security, but I was wrong. The other members of the setting team had been training on the operation of the Apple Mac system apparently for some weeks, so my position was no longer as secure as I had first thought. I tried to improve my typing speed to no avail, my left hand would only work at half the speed of the right hand which produced an imbalance and therefore was impossible to implement.

There was a printers' union meeting arranged, that, as it happened co-incided with the day I was to leave my car at County Garage in Kingstown so as to be repaired after a lorry reversed into it, but that's another story. I heard the details about myself the following week that more or less implied that I was well below typing standard required by the company, that there were two tasks that I couldn't carry out owing to them requiring the person doing them, to be standing up for long periods. The report had stated that I had been offered an alternative position within the company with a much reduced wage, and involved typing at my own speed. I discussed these matters with the boss and we both concluded that, to be realistic, there wasn't a niche that I could fill, however, not being totally satisfied, I contacted the union representative who arranged to meet with me and the boss. We discussed all the options and agreed that the best choice for myself was to accept the redundancy amount, although technically I was not being made redundant because my job still existed, which I pointed out to both the union rep. and my boss. At the end of my employment I was also involved in proof reading the newspaper articles.
---


An ambulance was sent for and I was trundled out on a stretcher covered by a pink shawl to protect me from the rain which at the time was belting down. I was admitted at approximately 2pm and examined over the next four hours by three young doctors and they all concurred that my condition warranted steroid treatment, however it would be sometime during the Monday of the next week before they would begin administering the drug intravenously. Over the weekend I lay on top of my bed and watched television which was showing all channels concentrating on the General Election which was to be on Monday 1st May. Monday finally arrived after a terrible weekend as far as I was concerned because for the first time in my life I was totally dependant on others to assist me with showering, towelling, and getting me to the toilet then cleaning me up after my visit, then being fitted with a catheter tube and leg bag, it was a hellish indignity, however the nurses just took it all in their stride. As it was the eve of the election I enveigled one of the nurses to push me to the day room in a wheelchair where I met up with two other patients having a fly smoke, unfortunately I hadn't brought my rolling tobacco with me so I done without. We all watched the election results coming in and finally got off to bed at around 4.30am., it was an enjoyable night.

The following day the lack of sleep was beginning to tell because I couldn't lift my legs off the bed to save myself. I was rigged up with another bag of the solution which was attached to me via a screw on joint on the end of the bag which attached to the needle inserted into a vein on the back off my hand, the needle had been inserted on the day previous. The day passed uneventfully, most of the time I was chatting with the new admissions, a few of them belonged to families that I knew. Up to now I was feeling no improvement as a result of the treatment but knew from past experience that it took three to four days after the treatment to take effect. Sure enough I did begin to walk a little easier by the Friday and by the following Monday had returned to my former state of health before the relapse. For the next three months I just carried on as before, that is until the morning of August 8th when I knew there had been a change to my health the moment I opened my eyes in the morning. I managed to reach the bathroom but with a huge effort required just to support my weight. The biggest problem was standing with my legs straight because they involuntarily clamped together at the knee which as you can imagine does not aid walking ability or indeed help to keep one's balance. There was worse to come, if things could be any worse, I was experiencing terrible depressive mood over the next couple of days, I was continually moaning and dissatisfied with everthing, this was a new emotion that I had not experienced before.

I become very impatient and when things did not turn out as I had wished I became paranoid and thought that nobody cared about me and usually ended up in tears. I found myself thinking negative thoughts more and more and could not lift myself out of the depressive state that I found myself in. I finally called the doctor and she prescribed a course of anti-depressive tablets which had some horrendous side effects. After the second day on them I was experiencing terrible sweating bouts through the night, my bedclothes would be soaking with sweat in the morning, but worse I was unable to sleep, I'd lie awake all night or toss and turn, all the time my eyes were wide open. I recalled the doctor and told her of my reaction to the drug and she changed my tablets. I took two, and after I had been chatting with a couple of friends who had first hand knowledge of the side effects and possible addiction to anti-depressants, I threw them away and haven't missed them. I managed to get into a positive frame of mind when I needed to and found that most situations can be overcome. We are now into March of '98 and I'm still experienciong panic attacks for the most trivial of reasons. I tend to be hellish impatient with Eva and through this I've been totally unfair in my treatment of her. She does know what I'm going through and gives me a good talking-to from time to time, which does help.

On so many occasions over the past ten months I've been invited out by friends for various reasons, have agreed to go at the time, then as the time edged ever closer to the appointed hour, I could feel myself slowly withdrawing from the idea, then the negative thoughts started asking my self why I should go to all the trouble of changing, fitting my catheter and leg bag, and invariably I found an excuse to back out of the invitations through the weather which has been either very wet or fairly cold, either of which was certainly not suitable for an individual in a wheelchair. When the time has past when I'd originally agreed to meet, I started punishing myself mentally, accusing myself of being pig-headed, stupid and illogical, which I had realised by now anyway. An hour or so later I had lost all interest in conversing, didn't wish to read a book, and often couldn't be bothered to go through into our bedroom and turn my computer on, so I just stared into space after rolling myself a cigarette. Shortly after my April relapse I went to Dumfries Infirmary as a result of a referral by my Ocupational Therapist which had stated that I required a powered wheelchair. I had a driving test to ascertain if I was capable of handling one, this may sound peculiar but in actual fact the driving control joy stick is exceptionally sensitive and it took me some time to master it.

I have been out with the chair only four times in a month because of bad weather, ongoing problems with the front door draft excluder threshold bar which the wheelchair refuses to climb when re-entering my home. The problem actually lies with design of the chair in that the rear wheels are driven by the electric motors attached to them, while the front wheels are half the size and hard solid rubber, they are pushed by the motion of the rear wheels, and this is the crux of the problem. The front wheels are shoved and act not dissimilar to a supermarket trolley's behaviour which as we know can be pretty erratic. Anyway, I have overcome the difficulties in negotiating the turn to exit the front door, just, and up to now on my return there has always been somebody around the proximity of my house to whom I have called to assist me over the threshold. I first explain that the two motors have to be disengaged, this is done by turning the diagonal three inch levers inward which are located to the rear of the motors. Now the wheelchair is free running and can be pushed along like any conventional push model. On one occasion this did not work because the lady in question could not tip the chair backwards very slightly in order that the threshold could be climbed, so she pulled me back down the path backwards, then turned and pulled me back towards the house, finally managing to pull the chair into the lobby area with only a little effort being required by her.

Since then I arranged for the Clerk of Works, John Lockerby, and Occupational Therapist, Lorraine Priestley to visit me simultaneously, which they have done. The meeting resulted in an assurance was given that a small ramp, metal or wooden would be installed to the outside of the draft excluder threshold bar, also the metal railings that were incorrectly installed last year would be bracketed to the walls to the side of my pathway resulting in another three inches of usable width on both sides.

Also my living room door would be changed to a sliding door, all on the proviso that sufficient funds are available. Five weeks later the workmen finally arrive to move the handrails to the outside of the pathway walls. The work was undertaken and completed in under four hours with my path being widened by six inches through the absence of the handrails to the inside of the path. It wasn't until the next day, a Tuesday that I managed to take my electric wheelchair out, this was due to the foul rainy weather that begun and persisted from lunchtime through the remainder of the Monday. I had also omitted to ask Eva if she would move the nylon doormat away from its position inside the front door to further up the lobby. I knew from experience that if the doormat was not moved away from the door that I would be unable to turn and exit through the front door as a result of the chair drive wheels on the rear spinning on the nylon mat and consequently preventing me from leaving the house.

All was rectified for Tuesday however, and I negotiated the door without any problems, what a difference now the upright closest to the door had been removed and repositioned on the outside of the wall. I continued until the end of the pathway where it converges onto the public path at a right angle. I manoeuvred my wheelchair so as to sit on the side of the path facing towards town, then very slowly and carefully dismounted the chair and grabbed onto the handrails' top bars with both hands, then supported by the rails I found that I could walk without too much effort being required right up to the open front door. I managed to reach the door handle and pull the door until it closed, then holding onto the left rail I turned the key in the lock, which I had inseerted earlier before opening the door, and locked it. About turn and I walked back to the chair and slowly lowered vmyself down to end up sitting diown. Alittle adjustment to straighten myself up, switched on and turned the chair three hundtred and sixty degrees to face southwardfs. I turned the speed regulator up to full speed (4 miles per hour) and had driven perhaps twenty yards to just beyond my car, to where the kerb has been lowered when I met May Harkness, now my brother Joe's mother-in-law through the marriage to her daughter Elspeth to Joe.

May told me that she had been visiting Winifred (Mrs Blackwell), the former matron of Greenbank Eventide Home. She went on to explain that Winifred had been diagnosed with Cancer fairly recently and she had been paying her a visit to cheer her up. During the course of our twenty minute conversation I apologised to May for not paying her a visit in 1997 and went on to explain about my two relapses and subsequent depression and promised to pay her a visit in the very near future, it's April now and I still havn't arranged that visit after three weeks. I feel terrible now that I've remembered, I'll call her tomorrow and arrange a mutually acceptable time for both of us. I've had a strange day today with small bouts of depression and Eva having to put up with them, sorry Eve. I was sitting watching TV when thoughts entered my head that convinced me that I should not be watching the particular programme, so I turned my head to the side and rested my chin on the heel of my right hand. I tried to think abouit what I would write about tonight in my memoirs, then Eva, not unexpectedly asked what was wrong to which I replied,"nowt". I sensed that she knew something was not right, but she didn't pursue the matter. At that point more negative thoughts crept in accusing me of being stupid, unfair, and worrying my wife unnecessarily.

I could feel myself welling up as the guilt grew stronger. I decided to roll myself a cigarette to take my mind off the situation which it did do for a short time. I told Eva at that point that I would like to go through to our bedroom where my computer is situated, to which she replied "OK, are you not enjoying the drama?" I replied, "Not really", and proceed to stretch out one leg at a time so as to decrease the stiffness in them and also to help me balance once I was on my feet. I asked her to hold my elbow crutches whilst I got to my feet by leaning on the arms of the easy chair that I was sitting on, then thrust each arm through the loop of each crutch, grab the forward pointing handles and lean on them with all my weight, simultaneously trying to stretch my legs to their full height. I managed to struggle through to the bedroom and proceeded with my writing. By the end of April I was feeling much more positive and confident and was getting myself involved in different activities such as preparation for the Muckle Toon Vintage Rally meetings and making contact with the Carlisle MS Society monthly meetings. On a day to day basis my health was never consistent, some days I felt that I could face anything, then other days, especially wet ones I felt low, found myself thinking negative thoughts, and couldn't be bothered with visitors.

Another aspect of my health that is giving me some concern is the onset of aching legs when lying down in bed. I cannot find a comfortable position once I have gone to bed. I have always slept on my side in the foetal position but now I find that if I lie in this position my legs feel like they are clamped together, and when I try to straighten them out to ease the pain, my legs either go into spasms, shaking violently, or lock with cramp which will not release for a minute or so, by then it feels as if my calf muscles have been torn and are very painful to the touch. If I experience an episode like this after wakening in the middle of the night, it is almost impossible to find a comfortable position that allows me to get to sleep again. Frequently it is the need to pass urine that wakens me, sometimes three times a night, this I have fairly well organised as I have a special sealable plastic bottle which is capable of holding well over the amount that I pass. I recall the afternoon of Wednesday 17th June which was a glorious summer's day, the first really warm and sunny day we had had in over four weeks and because it was such a pleasant day I decided to go for a jaunt in my battery-powered wheelchair. I set off from the house with my little Yorkie bitch called 'Mindy' following closely behind. We headed along Glenesk Road, past the sewerage works, up onto the pavement and down towards the river.

We turned left at the junction of this through path and the riverside walkway and continued as far as we were able to Land's End, the local one of course. After a pause of ten minutes or more which gave me the opportunity to roll and smoke a roll-up cigarette, we set off in the reverse direction and continued along the path, we passed the back of the sewerage works, onward past R.G.Neill's mill which had only just closed two weeks previous. Holding the same line I continued past the loaning between R.G's and the EWM lorry park, past the west facing perimeter wall of the lorry park and I would be about level with the external wall of Eskside Engineering when my wheelchair suddenly veered to the left, came to a sudden halt when I released the joystick handle that controlled direction and speed, next thing I felt myself going over the banking head-first, at that moment a thousand thoughts rushed through my brain simultaneously, ones of disbelief of what was happening, total helplessness, where will I land? in the water or not?. My questions were soon very quickly answered, I felt the impact when my head and right shoulder struck a narrow set of concrete steps laid into the banking, then I felt the sting of nettles of which I had rolled over before coming to rest after sliding and receiving grazes to my left elbow, then finally ended up stretchd across two cast iron discharge inspection doors.

Lucky for me these doors had several 'D' handles attached, presumably for ease of opening by whoever was inspecting the discharges from the dyehouse. I managed to grab a handle with each hand and so prevented myself from sliding down the gradient that the doors lay on. The pitch to which I refer would only be about 35º but when I was lying down the gradient holding on with my legs sort of behind me and the river passing in front and some five feet lower, it did seem much steeper. After I had come to and was aware of my predicament, by then the pains had started in my shoulder, which was deeply grazed, and the bridge of my nose which was oozing a steady flow of blood down the left side of my face, I could not focus anything through my glasses coming off at the impact with the concrete steps, so I was totally disorientated and fearful of ending up in the river, if this had happened I would have been unable to hold myself above the water for long in a prone position, and worse if I landed on my front in the riverI would have been unable to get myself in a position to clear the level of the river, so I would have drowned. So looking at the alternative possibilities, I was the most fortunate man in Langholm that day. I digress, having found myself in the predicament I was, I reverted back to basics of survival, shout for help as loud as possible, which I proceeded to do, all the time my thoughts kept repeating that this was a bad dream and not really happening to me.

After ten minutes or so I heard a voice from the other side of the river calling out to me to hold on. It was young Alan Warwick who was in the middle of taking his dog a walk. His legs made rushing noises with the river as he waded through it. He was crouching by me reassuring me that I would be fine and he was going to search for help, he'd be back in a minute. A few minutes passed when I heard several voices coming closer, Alan had managed to rally Robin Masterton, Andrew Jeffrey, and Nicky Weatherstone and they congregated round about me, firstly they managed to get me in a sitting position with my feet downhill, then everyone cncerned took my arms and legs and carried me up the banking and position me back in my wheelchair, which I was very surprised to see still standing on the footpath. I had no idea if the chair had come down with me or not. Then I got another surprise, it had never occurred to me where my wee Yorkie 'Mindy' had been during all the drama. I recall that I had placed her on my knees because she had been a little tired through the heat of the sun, and then I had realised that she must have tumbled with me. She must have scrambled back onto the footpath and stayed well back during the rescue, but here she was apparently uninjured but taking it all in. Once I had gathered my senses, then the lads had found my specs along with my car and house keys, they strongly advised me to seek medical attention and Nicky volunteered to push me in the chair to the health centre. After I explained to him the method of disengaging the wheelchair motors and rendering it only to operate in manual mode, off we set to the doctors' surgery where the cut on my nose was cleaned up along with my various abrasions. I phoned my wife at work and she went to the surgery at the back of five o'clock which co-incided very nicely, she walked home while I propelled my wheelchair alongside her.

I could not wear my glasses in the normal position for three days after which time my nose had knitted up fairly well. I typed out an article for insertion into the E & L Advertiser and my sister Christine handed it in to their office. I mentioned in the article that it was my contention that this pathway was not suitable for wheelchair use, whether manual or powered, but it should be. My accident should not have happened and would not have if the tarmac surface had been maintained correctly and I followed up by contacting Denis Male our local councillor in the hope that he will pass on the message to his superiors, or at least to those responsible. On the Saturday following the incident my brother-in-law paid me a visit and agreed to take several photographs of my injuries which I intended to use to substantiate my case. Eva has agreed to wheel me round to the spot and to take some photographs of the area of tarmac on the footpath either today, Saturday or Sunday. It is still the 20th June and I had volunteered to help out Eva at the Lodge garden fete but unfortunately because the weather is very hot and sunny I decided to decline because I know that I will feel totally drained in a very short period of time. I would have loved to attend but felt it was stupid to do so to the detriment of my health. The following week I submitted a report to the E & L Advertiser detailing the riverside incident which was printed in the June 25th edition. The same Thursday evening I was telephoned by Barry Armstrong at the same time as Pete Kennedy was visiting, Barry was having problems with his breathing and was having chest pains so I phoned the doctor because he was going to leave it until next day.

He was taken into Carlisle infirmary and after a whole night of tests he was given the all clear and it was put down to a muscle spasm in his chest through lifting groceries, then rising too quickly. After experiencing the pains he had an anxiety attack which was the cause of his breathlessness. It never rains but it pours they say, and how true that is. I received a phonecall from Peter Kennedy in Hawick to say that he had seen his doctor as he had planned and he had told Pete he must cease with all medication as his tests had shown an abnormality in his liver, what the abnormality was he would not say, suffice it to say that the medication he had been taking all the past years had damaged his liver and in order to have his condition deteriorate he advised all medication to stop, even his pain killers which he requires every day. The doctor had told him if he required pain killers he would inject him with morphine as the introduction of the drug via the blood would be much better than in tablet form which would take the route via the kidneys and liver which had been happening for many years. This has all came to light since he had his hydrocortizone injections into his thigh bones two weeks ago.

I received a surprise telephone call from Joe and Elspeth who told me that they were planning to move from Queenstown to Christchurch, first Elspeth in three weeks time, then Joe in six weeks, this would give Elspeth time to settle in her new job in the Park Royal Hotel and also to look around for rented properties. She explained that they had had a light fall of snow last night, but not enough to be able to ski or sledge.

---




Back row L/R:
James Clark, Isabelle Davidson, Ethel Reid, Andrew Paterson, Greg Halford, Mervyn Burnett, Colin McGeoch, Robert Warwick.

Second back L/R:
Ronald Laidlaw, Tony Mattinson, Brian Porteous, Peter Saville, Graham Nicol, Margaret Bell, Dennis Barker, Robert Hogg,
Rae Lanchbery, Johnny Irving.

Second front L/R:
Kathleen Dinwoodie, Anne Barnfather, Irene Johnstone, Eileen Hawthorn, Hazel Hill, Jean Anderson, Muriel Foster, Kathrine Armstrong, Maureen Borthwick, Helen Caskie, Ian Borthwick.

Front L/R:
Margaret Young, Isobel Young, Miss Jean McLeod (teacher), Frank Zemla, Mr Ian Calder (teacher), Linda Black, Avril Smith,
Winifred Johnstone.

Several weeks before my accident I had heard through the local grapevine that there was a suggestion that my class was to have a reunion, so as is my way, I made it my business to find out who was organising it and Avril Grieve's name came up. I phoned her at home that very evening and discovered that there were other girls, I say 'girls' because that is how I view them, not fifty-year-olds, and offered to assist them in their quest in an administrative capacity. We arranged to meet at my house, along with Kate Turk, nee Dinwoodie, Linda Nawrocki, nee Black, Avril Grieve, nee Smith, and myself. We decided to make the celebration night as simple as possible and agreed to hold it in the local British Legion Club on 31st October. We decided against supplying foodstuffs because of the extra organising of a caterer, having to get numbers who wished to dine, and lastly having the bother of working out a price per head and supplying all the attendees with tickets. No, much easier to invite people by letter and to reply by telephone to confirm that they and their partner were coming. I received 40 replies from individuals and their partners who wished to attend. Not a bad return out of 72 invites. There were still a handful of people who didn't reply, and the people who did at least reply to state that they were unable to attend, had other commitments for the self-same evening. The majority of others who couldn't make it either lived abroad or some considerable distance away from Langholm to make the trip for one night.

I did have conversations with old classmates, however, and was pleasantly surprised to hear how they had fared in their life, after all it had been 35 years since we had last communicated in many cases. I also managed to inveigle three teachers from my secondary years, Jim Tuton, my former PE teacher, Miss McLeod, former girls' homecraft and cookery teacher, and lastly Ian Calder, who was the former Commercial skills' teacher. Alex Carruthers was disappointed when asked because he had planned to take his family to London that very weekend, I asked John Gair that weekend if he would like to attend the reunion. Through Alex Carruthers I found out that Jim Hunter and his wife, Beth are going to flit from Melrose to Glasgow, you guessed it, 'that very weekend'. There are some teachers who passed on some years ago who I would have loved to have joined in, namely Miss Nan Steele, former mathematics teacher, and Mrs Jean Dickson, former arithmetic teacher, oh yes, and Gordon George, who I believe lives in the Montrose area. It's strange trying to think of your former teachers, and you come up with only a few. I thought that I could have remembered them all right through my school years. Jim Tuton couldn't attend because he was bedded with a virus.

But there you go! Just thinking aloud, at five years old I was taught by Miss Simm, then there was Mrs Hardy, who I always remember was a fairly elderly, stout lady with a very large mole to the side of her chin. From the old primary school in Charles Street(Old) to the new primary, which was the former secondary school, the building being built in 1854. I remember my favourite teacher was Mrs Arris from Canonbie, then there was Mrs Arbuckle, Mr Sefton, music teacher, who sadly had a nervous breakdown as a result of the uncontrollable classes that he attempted to educate. 22nd September, I havn't written a thing in months, now I feel that it is time to resume. During my temporary recess, I have slipped in and out of light depression, most of the time when I was alone in my house and had lapsed involuntarily into negative thoughts. I can never remember what I was thinking about at the time the depression came on, probably myself and my failings, my most recent frustrations over something trivial as, having a lot of hassle dressing after my shower, or making myself a cup of tea, which can take me over five minutes, then to finally get the cuppa through to the livingroom without spillage, and then discover that the damn stuff has too much milk in it, diluting the tea's flavour, also cooling it down quite a bit.
---
---
---




Luckily, my regular visitors knew how to roll cigarettes so a supply was made up that would last me a day, until I smoked a day's ration in a morning and was desperate for a smoke come lunch time. It came to a head one day, so when Christine my sister came to visit I handed over all the tobacco I had, my rolling machine, along with papers and tips and said farewell to them forever. It was a strange feeling voluntarily giving away all my smoking accoutrement, it was as if a great weight had been taken from my shoulders. When I've tried to stop smoking in the past, I thought about it constantly after I had "smoked my last", but this time I did not. Because I had no craving, it felt relatively easy, so easy that doubts were passing through my mind, these are the norm when trying to cease. But my mind was set, I was finally going to give up the weed after having smoked over 39 years and I was going to stay off them. I remember clearly looking back when Eve or Chris or Laura smoked a cigarette in the same room as I was in, I hated the stench of them, the air was sucked from the room which caused me to gasp for air, strange indeed. I knew then how people had been feeling when sitting in a restaurant with someone smoking nearby, or in a confined space, such as in a car with someone exhaling clouds of spent nicotine smoke clouds.

---
---


She also had an understanding of nature's own beauty and was very much aware of our spiritual world. She was very mindful of her children and it was her fervent wish they would be able to enter the next millennium fully prepared, both intellectually and spiritually, having knowledge of information technology and possessing a great understanding of themselves and fellow earthlings. Over the past six weeks I was given physiotherapy in which the physiotherapist concentrated on my sitting posture as well as pelvic exercises to ensure a greater degree of balance and to strengthen my lumbar and lower side muscles. These daily exercises finally allowed me to stand erect around the middle of February, albeit there were three physiotherapists supporting me, in all I managed to stand three times in each of the four sessions, each time I was tremendously elated to be standing fully erect. Sadly these physiotherapy sessions came to an end when I was released on Friday 12th March 1999. The Patients' Transport Service mini bus arrived at two minutes past one, some three hours early, when I was in the process of having my sling fitted so as to be lifted by the hoist and placed in a sitting position on the hydraulically operated bench. I had no choice, I simply turned my electric wheelchair and headed back up the corridor towards my cubicle which was a 10' x 10' bedroom at the far end of the corridor. I past the doorway of the male 6 bedder wards which had been my dining room, bedroom, and sometimes I watched television there or had deep, lengthy discussions with the men patients. Apart from myself all the male patients were recovering from stroke, although we all received Occupational therapy, that consisted of playing children's games such as Blockbusters that jolted our memories, and Connect4 which tested our ability to work out strategies of preventing each other's opponents from succeeding to put four coloured discs in succession, be they horizontal, vertical or diagonal, and I was very much surprised how difficult it was for some of the patients. The stroke victims also received speech therapy.

---
---